The controversial statue of a comfort woman along Roxas Boulevard in Manila was removed recently from its site.
Epi Fabonan: Your mother and brother are raped. Then, it is said that he is still freed until now he does not even recognize that he has committed a crime. In the midst of it, she has negotiated with your father to enter your house and destroy all the pictures of your mother and brother who are showing your home in memory of her.
That's what Duterte administration, Manila City Government, DPWH and the Japanese Embassy do to the monuments of comfort women in Manila.
Leopoldo Sayson Placer: It is just your imagination.
Aldrin Roque Delacruz: Stop using drugs
Prez Lopez: Too melodramatic ka dre. Your comparison does not have a base. Also watch telenovela.
Dindo Balasa: If there is nothing else to do with you but you are just Epi Fabonan who is a person who is weak in the flesh and is in no danger, because of unnecessary drug use
Jason Umali: Try to realize that we do not have a government. What we have is a regime, of Clowns and Mobsters.
Juan De Marco:  Kakistocracy and best.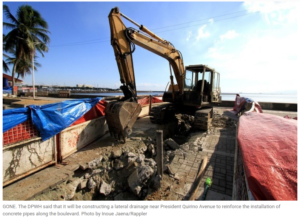 Jason Umali: Between 17 to 20 percent of Filipino adults experience psychiatric disorders, suffer from mental health problems. According to the National Statistics Office (NSO), mental health illnesses are the third most common forms of morbidity for Filipinos. So 17% of 100million thats million ..! Hey! thats the number of people of the Duterte regime and his supporters!肥🙉🙊😬🙉🙊😬 # Weeweenewsnetwork💦
Fernando Canares : Patience. Authoritarian Govt. we are. what he can imagine, even hurt or bad. He will do. As long as the country can not eliminate it, the nation's sacrifices will continue
Kenneth Agno: DID YOU EVEN READ THE ARTICLE? as it has a drainage line underneath the statue. haha ibalik muli naman after. You just relax when you get your head on your head. 👊
And Doles Cachuela: Grabe … and they were raped during the afternoon .. the symbol of their assault..so what if offensive e totoo nman..mas offensive now that the abused .. no longer nacompensate properly paused
Benjamin Pachie Cruz:  Did you live that time ????
And Doles Cachuela: Benjamin Pachie Cruz are you alive? What ur point?
Benj Ligot: Cowardice!
Joseph Sanchez:  #NaDuterteKayo
Honda Jay:  As expected. I remember when that statue was put up, he throw all kinds of good words. When nobody talks about it, pull it out as it will make Japanese angry.
Jerry Malayon:  After Sister Fox, as well as the Comfort Woman Statue, was removed. What happens to us?
Belx Emilio Tan:  remember the pres hate the meaning of a woman
Ting Panganiban: Galing tlg ni shabuterte. When Accepting a MONEY ACTION MONEY.
Chibi Maruko: Back then you read it as well? 😂😂 😂 g K K 😂 😂 😂 😂 😂 😂 😂 😂 😂 😂 😂 😂 😂 😂 😂 😂 😂 😂 😂 😂 😂 😂 😂
John Puswak Gabriel: Its more fu in the phillipines
Butchie Velasquez Fajardo:  The victims and their loved ones will surely curse you!
Ferdy Ferdz:  is angry with the women
Jay Jay : no one is noticing their posts.
Guillergo Tadaligumo:  does not know what the government is doing
Rankene Mara Huy: … answer Erwin Tulfo … PUKING INA NYO DAW two INQUIRER.net
Johnson Camacam:  repeats this post rappler ah ?? do not have another news ??
Al Miral:  is really naughty..not similar and unparalleled!
Mariano De Sangrerojo:  What do you expect from a populace that elected a mayor making rape jokes. Yuck!
Tagged:
comfort women
Roxas boulevard
statue